WELCOME
Dear Students and Families: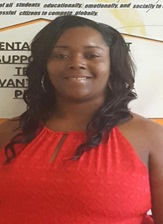 Welcome to the 2015 – 2016 school year! Our commitment at Ruleville Central Elementary School is to provide a safe, positive, intellectual learning environment that will empower students to become creative problem solvers, critical thinkers, proficient readers, productive citizens and life-long learners. I feel honored to work with a team that is highly qualified, passionate and dedicated; a great support staff, our wonderful students and their parents, a supportive District, and our supportive community leaders and stakeholders. This year, we have an enormous challenge ahead of us, and I am ready!
As I enter into my first year as principal, I will set high expectations for our students in regards to academic performance within the classroom, as well as responsible citizenship at school and in the community. I am asking each student to make a commitment to having Tiger PRIDE by being active participants in their learning and acting responsibly as an individual within our learning community. Doing so will enable all to have a successful and enjoyable school year.
I am asking all parents and stakeholders to make a commitment to education. With all of us working together, RCES will have a successful and productive school year. Ruleville Central Elementary School will continue to work with students, parents, and the community to create a strong partnership, strong sense of school pride, mutual respect and appreciation for each other. This cooperation will ensure a successful partnership between parents, students, teachers, and community members.
I am appreciative for the opportunity to serve as principal of Ruleville Central Elementary School and I am eager to work with each of you. I look forward to an exciting and prosperous school year.
Sincerely,
Latasha Carroll, Principal
Ruleville Central Elementary School